About Dennis Priebe Plumbing
The Priebe name has been associated with the plumbing industry in the La Crosse area for nearly 70 years. Priebe Plumbing was started by Robert Priebe Sr., and later purchased by 2 of his sons, Dennis & Bob. They operated the plumbing business jointly for 10 years before Dennis started Dennis Priebe Plumbing nearly 40 years ago. Dennis Priebe Plumbing....is THE original Priebe Plumbing of the Coulee Region.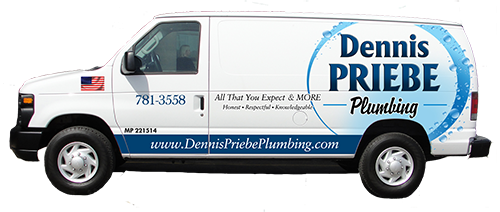 From the beginning, Priebe Plumbing has been committed to providing the highest quality of plumbing workmanship at a fair price. Over the course of many years, Dennis Priebe Plumbing has plumbed hundreds of the areas finest homes securing a trusted business identity throughout the La Crosse area. As business & manpower conditions changed, Dennis Priebe Plumbing made the transition from a new home plumbing company to a mainly service plumbing company, but still performs new construction plumbing as well. While the business model has changed slightly, the commitment to excellence & value has only grown stronger.
As Dennis neared retirement, the business was put into the hands of Steve & Stephanie Lubinsky. Steve has been with Dennis Priebe Plumbing for over 25 years & is not only a superior plumbing technician, but also an all-around great guy as evidenced with his popularity with the customers. His wife, Stephanie is the Office Manager and works equally as hard to keep the company running smoothly.
Dennis Priebe Plumbing is very proud of its past and is looking forward to a bright future of serving the customers by continuing to provide top quality workmanship & value.